Household Case Of Malignant Mesothelioma Diagnosed Nearly 40 Years After Wife Was Exposed To Asbestos In Her Home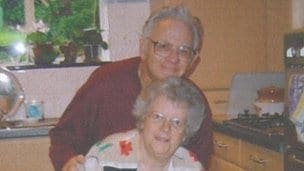 An article from BBC News, "Helene Todd asbestos case: 'My wife died keeping me clean' ", tells the story of Helene Todd, who died from malignant mesothelioma at age 66, nearly four decades after being exposed to the dust from her husband's overalls.
Helene's husband, John Todd, 68, was an Army mechanic in the UK for 22 years. He worked for the companies Royal Electrical and Mechanical engineers.
During the 1970s, the military vehicles he worked on in Germany used asbestos for heat protection. He would come home from work with dirty overalls, which his wife would clean.
Helene was diagnosed with malignant mesothelioma (sometimes called "meso" for short) in January 2010. Seven months after the mesothelioma diagnosis, Helene died.
The only exposure that Helene had to asbestos was when she was washing John's dirty work overalls. The coroner found that Helene's mesothelioma diagnosis and death was caused by washing her husband's overalls.
John mentions how asbestos used to essentially be a "way of life" back when it was widely used.
John won a compensation from the Ministry of Defense following his wife's death caused by mesothelioma, but it will never make up for the ultimate loss that he has suffered.
Even though the events in this article did not take place in North Carolina, second-hand asbestos exposure and subsequent tragedies, such as Helene's asbestos-related death, can happen anywhere.  Often times it can be determined how the asbestos exposure happened and, in turn, an asbestos lawsuit for legal compensation can be filed on behalf of the mesothelioma victim or her surviving family.
---
Go to Asbestos-Mesothelioma Case Evaluation Form >>